2017 was a turning point for Axial. Our focus was exclusively on quality — quality members, quality deal activity, and quality member experiences.
Below, we highlight some of the most interesting deals that happened between our members in 2017, but first we thought it would be interesting to share a few statistics. In 2017, 4,724 deals were privately marketed via Axial, which generated 170,198 targeted one-to-one connections and over 14,234 subsequent deal discussions. 60% of the deals privately launched via Axial generated inbound interest from buyers; 9% of deals generated interest from 10 or more buyers or lenders.
We made important changes to the Axial platform to reinforce quality. They include:
All deals are 100% private on Axial.  Unlike deal posting or deal listing sites, every deal on Axial is completely confidential. CEOs and their M&A advisors have complete and total control over whom they invite to review a deal opportunity.

We made major improvements to our matching algorithm to help members better understand why they ought to connect on a particular deal opportunity. Importantly, the Axial recommendation algorithm now incorporates a member's responsiveness when determining the ideal members for a particular transaction.  (We took another huge leap forward a few weeks ago with the

release of our new 18,000+ node industry taxonomy.

)

To improve experiences for lenders and growth equity investors, we broke out change-of-control deals from minority equity and debt deals, and we created much more granularity

to help members express different types of debt capital needs

they might have.

We

offer a 100% standalone members only Events offering

, including invite-only events targeting specific industries and serving specific member types, including family offices and portfolio companies.

We eliminated our legacy one-size-fits-all pricing and offer value-based pricing structures that fit the specific needs of specialized PE firms, acquisitive portfolio companies and newly active family offices and specialty lenders.
In 2017, the revenues of businesses that privately transacted ranged from $2.9M to $610M; EBITDA ranged from negative $19M to $223M. Top sectors of deal flow activity included Business Services, SaaS, Healthcare IT, Distribution & Logistics, and Manufacturing. We saw the market swing more heavily towards change-of-control transactions (80%, up from 58% in 2016) rather than minority equity or debt deals. Notably, 24% of all growth-capital transactions attempted in 2017 were in the Technology sector, more than doubling year-over-year from 10% in 2016.
Axial's focus on member quality and major product changes led to a significant rise in the participation from high-quality investment banking boutiques last year, stronger than at any time in our history. Participating banks include 7 Mile Advisors, 41 North Partners, Allegiance Capital, Anderson LeNeave, Capstone Headwaters, Corum, Hilliard Lyons, Progress Partners, Quarton, R.L. Hulett, and many others.
Highlighted 2017 Deals
The Courtney Group + Flojos, January 2017
Acquisition / Industry: Consumer Durables & Apparel
The Courtney Group, Inc. acquired Flojos ("flo-hos"), a family owned business from husband/wife team Nellie and Sheng Yen Lin. John Dickinson, a Footwear industry executive is an investor and CEO of the company.
KeyStone Business Advisors served as advisor in the transaction. KeyStone Business Advisors and The Courtney Group, Inc. have been Axial members since February 2009 and December 2011, respectively.
Kenex Holdings + Bubbies Homemade Ice Cream, February 2017
Acquisition / Industry: Consumer Goods
Kenex Holdings, a family office based in Chicago, acquired Bubbie's Homemade Ice Cream & Desserts, Inc. as a result of a connection made on Axial. This is Kenex's second investment in the frozen sector following its acquisition of Imperial Frozen Foods in 2014.
Breslow Forsythe Group, another Chicago-based family office and fellow Axial member, co-invested in the deal. Seattle-based Cascadia Capital serviced as financial advisor to Bubbies.
Oprah Winfrey added Bubbies to her coveted list of favorite things in the June 2006 issue of "O, The Oprah Magazine."
Sterling Partners + Grand Rapids Ophthalmology, February 2017
Equity Investment / Industry: Healthcare
Sterling Partners partnered with Grand Rapids Ophthalmology ("GRO") to provide comprehensive management support to Grand Rapids Ophthalmology and other leading eye care practices throughout west Michigan.
Cascade Partners LLC served as the exclusive financial advisor to Grand Rapids Ophthalmology in this transaction. Sterling Partners learned of the deal after confidentially connecting with Cascade Partners through Axial's network.
This is the second transaction Sterling Partners has closed with Axial connections since becoming members in June, 2010. Cascade Partners LLC have been members since September, 2014.
GemCap Lending + M&W Hot Oil, February 2017
Debt Financing / Industry: Energy & Utilities
GemCap funded a $2.0 million revolver to a Texas-based oil services provider M&W Hot Oil as a result of a connection made on Axial. The business has eight locations throughout West Texas and more than 1,200 active customers. The facility is secured by receivables.
GemCap's funding provides the company with the ability to satisfy increased demand resulting from the resurgence of the industry. "While many lenders are still apprehensive to lend into the Oil and Gas industry, GemCap sees opportunity," commented Jim Thieken, Executive Vice President of GemCap. "We are pleased to provide the company with a financing solution to support its continued growth and expansion." GemCap Lending has been an Axial member since April 2016.
Koda Enterprises Group + V-TEK, April 2017
Acquisition / Industry: Light Manufacturing
KODA Enterprises Group acquired V-TEK, Inc. as a result of a connection made on Axial. SealedBid Marketing acted as financial advisor in the transaction.
V-TEK, Inc. is a leading manufacturer of precision packaging, inspection, and bond testing equipment for the electronics, automotive/aerospace, medical, micro-molding, and microstamping industries. KODA Enterprises Group is a holding company located in Waltham, Massachusetts.
CyberlinkASP + RoseASP, May 2017
Acquisition / Industry: IT Services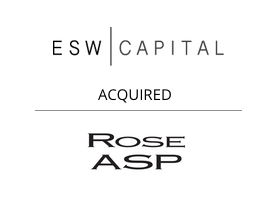 CyberlinkASP, a subsidiary of ESW Capital, acquired RoseASP, a leading provider of Microsoft Dynamics ERP and accounting software hosting.
The transaction was facilitated by IT ExchangeNet, a leading middle-market intermediary specializing in IT-enabled transactions valued less than $25M (USD). The deal was privately marketed on Axial to an audience of global Microsoft Dynamics buyers, which included ESW Capital.
Gauge Capital + eDynamic Learning, May 2017
Equity Investment / Industry: Education, Consumer Services 
eDynamic Learning, a provider of online courses for the U.S. middle and high school market, secured an undisclosed amount of funding from Gauge Capital as a result of a connection made on Axial.
SVG Capital Group served as advisor and Crestline Investors provided the financing for the deal.
Gauge Capital is based in Southlake, TX and has been an Axial member since January 2015. The firm invests in business services, healthcare services, consumer, and food Companies in the U.S. and Canada. Based in Canada, SVG Capital Group privately marketed the deal to investors, including Gauge Capital, on Axial.
Patoka Capital + Cyber Sciences, June 2017
Acquisition / Energy & Equipment Services
New Albany-based family office, Patoka Capital, LLC, acquired Cyber Sciences Inc., a company that produces precision timing products that help control and monitor electrical distribution systems for data centers, hospitals, and other critical power facilities.
Cyber Sciences was advised by WhiteHorse Partners, LLC and the deal was a result of a connection made through Axial.
P4G Capital + Aero Components + Fore Machine Company, June 2017
Acquisition / Industry: Industrials
P4G Capital Partners acquired the assets of Fore Machine Company, Inc. and Aero Components, Inc. as a result of a connection made on Axial. Frisco, Texas-based advisory firm EBB Group represented the sellers.
Fore Machine Company is an aerospace and defense manufacturing company specializing in CNC machining, coatings and customer-proprietary processes for complex geometries and advanced materials. Aero Components is an aerospace and defense manufacturing business specializing in sheet metal fabrication and NADCAP accredited chemical processing, metal bonding, and composites.
Thornblade Capital + Food Distribution Company, August 2017
Acquisition / Industry: Consumer Goods, Food & Beverage
Thornblade Capital, a private equity investment and advisory firm for small businesses with sales revenues between $3M to $50M in Greenville, SC, acquired a food distribution company in the hospitality industry. The company was advised by Premier Business Group, and the deal came from a connection made on Axial.
Soundcore Capital Partners + Bartley Pump, August 2017
Add-on Acquisition / Industry: Environmental & Facilities Services
Soundcore Capital Partners, a New York City-based private investment firm specializing in control equity investments and leveraged buyouts acquired Bartley Pump, a water system, pump, and well company in Santa Rosa, California.
Bartley Pup is an add-on acquisition to Soundcore Capital's platform company, PumpMan Holdings, and the deal was a result of a connection made on Axial.
ESW Capital + DNN Corp, August 2017
Acquisition / Industry: Software
DNN Corp, a Seattle-based leader in Content Management System software, was acquired by ESW Capital to further invest in the CMS platform as well as the DNN open source ecosystem.
DNN Corp was advised by Palmares Advsiors, an M&A advisory firm and member of Axial since November 2014. Palmares connected with ESW Capital through Axial in Q4 of 2016, which resulted in the deal. As of October 2016, DNN had $13.1M in sales and $3.4M in EBITDA.
ESW Capital, LLC, buys, transforms, and runs enterprise software companies. They've been an Axial member since May 2015 and this is their second closed deal through Axial.
Alaris Royalty Corp + C.C. Communications LLC, September 2017
Growth Financing / Industry: Telecommunications
Alaris Royalty Corp, a Canadian alternative equity firm, committed US$2 million to C&C Communications LLC, a Federal Way, Washington Spring preferred wireless retailer.
Alaris first funded the company in 2016 and said the proceeds of the deal will help the company make acquisitions in its industry.
Aquiline Capital Partners + Gingr, September 2017
Add-on Acquisition / Industry: Software, Pets
Togetherwork, the emerging leader in Group Management Software and Payments, acquired Gingr, the innovator in Pet Services software, based in Boulder, Colorado.
Togetherwork is majority owned by Aquiline Financial Services Fund III L.P., a private equity fund that invests in financial services and financial technology businesses.
Gingr was advised by Corporate Finance Associates — Los Angeles, an Axial member since December 2011. They connected with Aquiline Capital Partners through Axial, which resulted in the deal.
This is the second closed deal through Axial for Aquiline Capital Partners / Togetherwork.
Atlantic Street Capital + Lori's Gifts, December 2017
Acquisition / Industry: Retail
Atlantic Street Capital, a private equity firm targeting entrepreneurial businesses poised for the next level of growth, acquired Lori's Gifts, the largest multi-unit retailer of gift shops in hospitals.
This deal was sourced through a connection made in conjunction with Axial's 2017 event series. Said Sarah Robson, VP Business Development for Atlantic, "Thanks to the Axial team for hosting such great events that lead to new connections and sourced opportunities like this one!"
Subscribe to Middle Market Review
Thanks for subscribing!